Shopping Cart & Gateway
Included
Perfect for Everyone!
• Retail Stores
• Services
• Home Businesses
• Professionals
• Distributors
• Manufacturers
• Sales People
• Associations
• Entrepreneurs
• Clubs and Groups
• Any Business

Try it & Save!

Competitor Price
$39-$245

Regular Price
$29.95

Super Sale Price
$21.98

WHY YOU MUST HAVE A Website For Your business!

1. Your Customers Expect One!
Your customers expect you to be online. 2 years ago a website was a luxury, now it is a necessity that shows you're a serious professional.

2. Your Competitors Are Online!
Your competitors are online and if you are not, you are missing out on the power of the internet and losing sales to your competitors.

3. You're Always Open For Business!
Your customers want to do business with you when it is convenient for them, let them get info and buy from you when they are ready, right off your website.

4. Your Customers Need Info!
The number one reason why consumers will go online is to get more info for future purchases. You have to provide this before your competitors do.

5. Your Customers Need Directions!
If your customers travel to your business, you need to provide a map and directions for them to find you.

6. Your Customers Are Guessing!
Don't make customers guess when you are open.

7. Your Customers Expect Support!
Provide online help, manuals and documentation to support the products and services you provide.

"eThru is probably the best kept secret on the internet!" - Ryan Sharp, Salesman

"My staff laughed when I told them I was going to make our website myself, but you should have seen their faces when it was done!" - Gerod Floyd, Entrepreneur

eThru offers the highest quality solutions and services. Specializing in Media Corporations, New Business, Expansion and Campaigning. By bringing diverse expertise into our core deployment teams. We encourage clients to make economical yet rational decisions. Choosing one or all of our services, we take pride in the success of our client's success..
James Prater, CEO
As astonishing as this sounds, in less than 5 minutes you can have a website for your business, family or fun live on the internet.
The amazing eThru technology enables you to quickly build your own professional website, complete with email, pictures, newsletters and much, much more in just a few short minutes.
The secret to this earth shattering technology is an incredibly powerful, yet simple software interface.
This interface is so easy to use, over 172,000 websites have already been built using it. Most of these sites were built by people who have little internet experience and some by people who have such limited computer experience they only knew how to use their mouse.
"Most people don't truly understand the value they're getting. It would cost thousands to get a site that performs to the same level. eThru is a true bargain!" - Wendy Lau, Graphic Designer


Includes Thousands Of Dollars
Of Vital Website Features With Every Site!
Major Bonus - Free E-commerce
Get your website now and the full e-commerce package is included with your website. This package would cost over $100 A MONTH if purchased elsewhere. This includes full shopping cart, 50 catalogues, 500 products, customer order database, FREE MERCHANT ID and free online payment setup (oac). This is a very limited time offer so start your free trial today to ensure you get it before it's gone.
Everything Your business Needs To Be Successful Online – Fully Loaded Website ($2,500 value). Includes email, e-commerce, shopping cart, newsletters, auto-responders, subscription management, catalogs, order tracking, secure server certificates, search engine registration, visitor submission forms, links page, maps, contact us page, online coupons, message boards, guest books, polls, press releases, quotes page, 200+ templates, free support and much, much more. Only $29.95! Now Only $21.98.
Extra Bonus - If you want products to sell eThru can provide you with a catalog with over 2,500 products to choose from. Customize products choices to work with the motif of your site. eThru provides all the service and you don't need to do anything but take the order. CLICK HERE for more info.
CLICK HERE and try eThru's 10 day trial for free. No obligation. It is time to get the site you have always wanted.

"The websites are Idiot Proof. I just entered my text, picked my features and my site was magically done. No Problem!" - Gerod Floyd, Entrepreneur
You're Only Limited
By Your Imagination!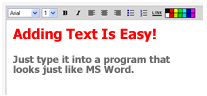 Your website is totally customizable!
Websites are not just for business. Build and update a site for your children to help relatives watch them grow. Have a family reunion site. Start a site for your group of friends. You can even make a site for your favorite hobby. The possibilities are endless.
• You can decide to have as many or as few pages as you want.
• Adding images is hassle free and only requires a simple click of your mouse.
• Easily add cool features like links and email or advanced features like newsletters, polls, shopping carts and e-commerce.
• Your eThru site is so easy to use you will always be able to stay one step ahead of the competition. You can change your site's features, sales, products and pricing in SECONDS!
• Entering text directly onto your website is as easy as typing a letter. Your eThru site includes two text editing tools, one of which looks just like MS Word with all the buttons and commands you already love to use.
You know you need a website for your business but you don't want to spend thousands of dollars for it. That is exactly why eThru was developed and is perfect for you. eThru has taken the most powerful technologies on the internet and combined them to make a super website building tool.
eThru is the most powerful and easy to use website building system anywhere. It is so perfect that it comes with an unconditional 100% no risk guarantee.
"After 6 months and $1,500 working with a Major Bank Ecommerce solution. I did better myself with eThru in a weekend @ a savings of 80% a year! I am now working on 2 more sites!!" - Michael Cline

CLICK HERE and try eThru's 10 day trial for free. No obligation. It is time to get the site you have always wanted.

"The websites are Idiot Proof. I just entered my text, picked my features and my site was magically done. No Problem!" - Gerod Floyd, Entrepreneur
Dare To Compare!
You've seen websites like eThru sites offered by professional designers and programmers. They cost between $2,500 and $15,000. They are usually designed on eThru-like software that is exclusive to the design industry.
The problem is that once you get your site, you are stuck with a site that is outdating itself everyday it's online. Since you don't want to be held hostage by a designer's high update fees, you need a way to update your site by yourself.
eThru is the only solution that allows you to have a professional designer-quality website and at the same time gives you the ability to easily update it whenever you require.
Contact our designers (818) 483-0937